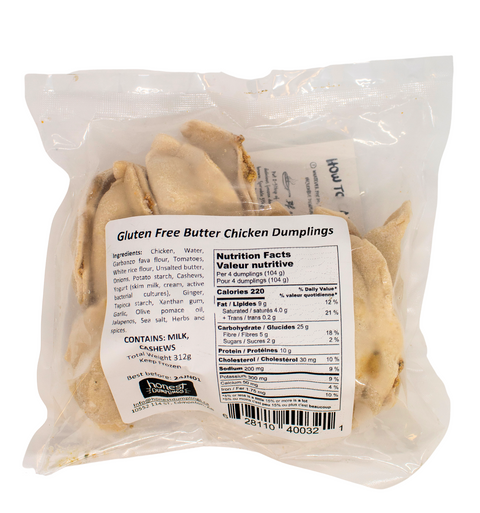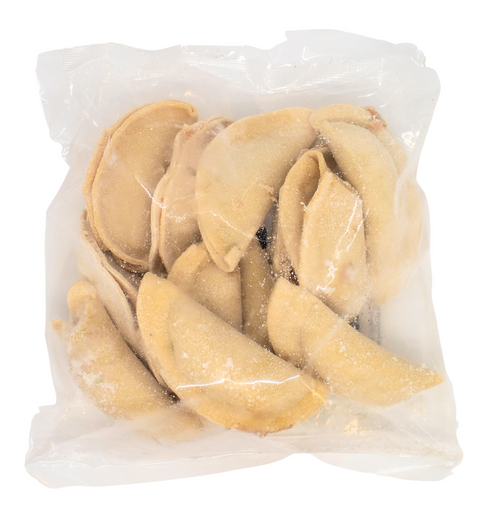 Honest Dumplings
Honest Dumplings - (Gluten Free) Butter Chicken Dumplings
We have made our Butter Chicken dumplings gluten-free! This has been everyone's favourite dumpling since 2014. We loved this recipe from our friend's chef mom who does a TV cooking show in India. We had to put it in our dumplings!

There is no cream or sugar added. The rich flavour and creamy texture are all from the fresh vegetables, cashews, and fragrant spices we put into the dumplings. People have been asking for a pack of just Butter Chicken dumplings for years. They are finally here and this time they are gluten-free! Get ready for a delicious party in your mouth!
Ingredients: Chicken, Water, Garbanzo fava flour, Tomatoes, White rice flour, Unsalted butter, Onions, Potato starch, Cashews, Yogurt (skim milk, cream, active bacterial cultures), Ginger, Tapioca starch, Xanthan gum, Garlic, Olive pomace oil, Jalapenos, Sea salt, Herbs and spices.
CONTAINS: MILK, CASHEWS

Total Weight 324g