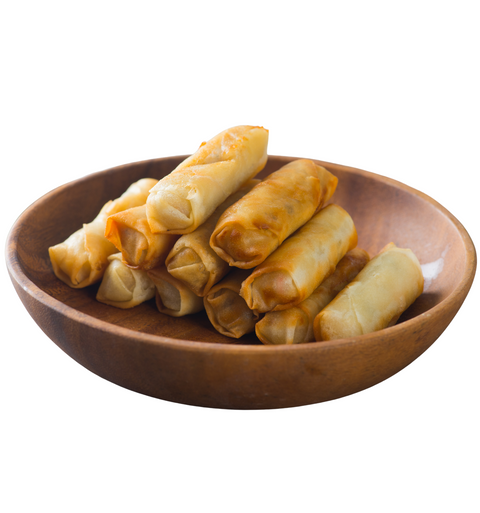 Honest Dumplings
Honest Dumplings - Jalapeno Popper Spring Rolls (4 rolls per pack)
(Friendly warning: these spring rolls are SPICY!)
This is another popular dumpling filling turned into a unique and absolutely delicious spring roll! Roasted jalapeños filled with a rich creamy cheese filling and topped with crispy bacon. Sweet, cheesy, and spicy, SO delicious and addictive!
Ingredients: 
Fillings: Jalapeno, Cream cheese (milk, cream, skim milk powder, salt, bacterial culture, carob bean gum, sorbic acid), Bacon, Monterey Jack cheese (pasteurized milk, modified milk ingredients, salt, bacterial culture, calcium chloride, microbial enzyme, annatto), Green onions, Sugar, Garlic, Apple cider vinegar, Green bell pepper, Cilantro, Lime juice, Sea salt, Herbs and spices
Wrapper: Flour, Water, Coconut oil, Salt, Sodium caseinate, Wheat starch, Maltodextrin, Ascorbic acid.
CONTAINS:
WHEAT, MILK
Total Weight 176g
4 spring rolls per pack
KEEP FROZEN UNTIL READY TO USE
Cook spring rolls from frozen. Pan-fry with some oil until golden or bake at 400F for approximately 18 minutes turning halfway through (until  the internal temperature exceeds 74°C)