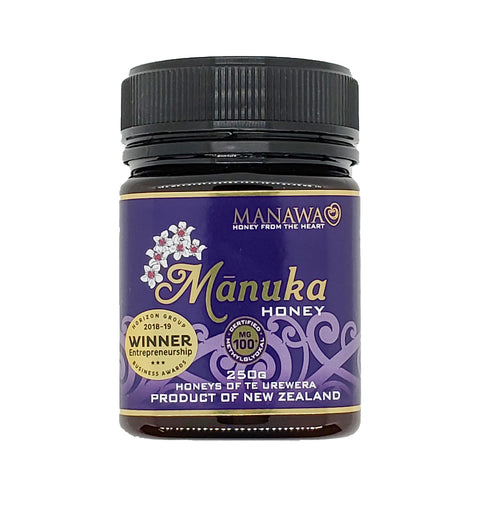 Down Under Goodies
Mānuka Honey (Shipped frozen)
You'll never forget the taste of this 100% pure and natural honey made by the Children of the Mist (Tuhoe People), guardians of Te Urewera native forest.
The bees have worked hard to give you a rich amber Manuka Honey famed for its therapeutic and medicinal healing properties all around the world.
It comes with a rating over 10+ meaning it has a minimum of 100mg/kg Dietary Methylglyoxal, so it contains enough of the active ingredient to be classed as powerful.
The MGO level in Manuka Honey means it's got a tremendous amount of antibacterial, antivirus, and other healing properties capable of improving your health.
Thanks to the ancient Ureweras forest offering lots of pollen and nectar the bees will be in perfect health allowing them to produce pure uncontaminated honey.
Consume daily for maximum results.
You can eat off a spoon, drizzle over foods, or add to drinks for extra flavour. Make sure it's stored somewhere less than 20 degrees and away from direct sunlight.
Proudly made in New Zealand with a little help from Urewera bees.
| MGO | MANUKA HONEY BENEFIT | UMF |
| --- | --- | --- |
| 30+> | Insignificant levels of activity | 5+> |
| 100+ | Some levels of activity, used for general well-being | 10+ |
| 250+ | Antibacterial activity found-used in prevention and well-being | 15+ |
| 400+ | High MGO™activity-used for digestive affections | 20+ |
| 550+ | Superior MGO™activity-used in topical applications | 25+ |