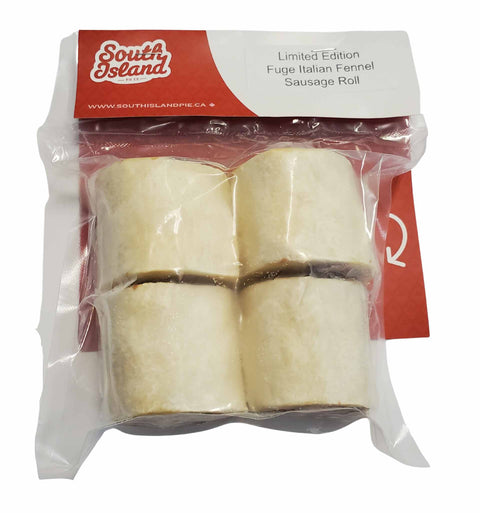 South Island Pie Co
South Island Pie Co - Limited Edition - Italian Fennel Sausage Rolls (Collab With Fuge Sausage)
4 sausage roll pieces per pack.
Introducing a mouthwatering collaboration between South Island Pie and Edmonton's beloved local favourite, Fuge Sausage: the delectable Italian Fennel Sausage Rolls. 
Crafted with South Island Pie's renowned expertise in creating irresistibly flaky puff pastry, and infused with the savoury goodness of Fuge's exquisite Italian fennel sausage, these sausage rolls are a match made in culinary heaven. Each bite is a delightful combination of flaky pastry and the rich, aromatic notes of premium Italian fennel sausage.
The Italian Fennel Sausage Rolls from South Island Pie and Fuge Sausage are meticulously handcrafted to ensure the highest quality and flavour. A blend of pork and beef with a perfectly balanced flavour and just a little bit of heat. With their irresistible aroma and mouthwatering taste, they are sure to be the star of any occasion. Serve them as an appetizer, pair them with a fresh salad for a delightful meal, or enjoy them on the go—these rolls are a versatile and convenient treat for any time of day.