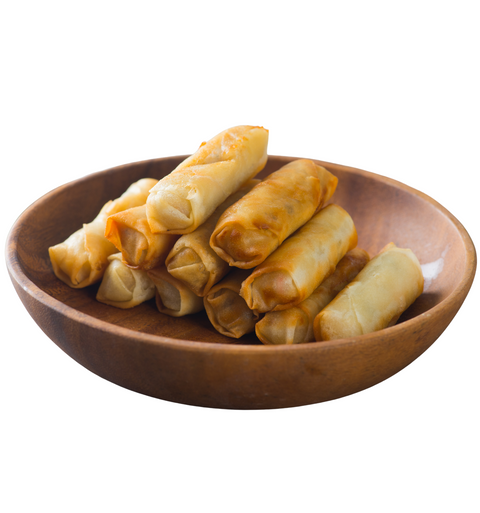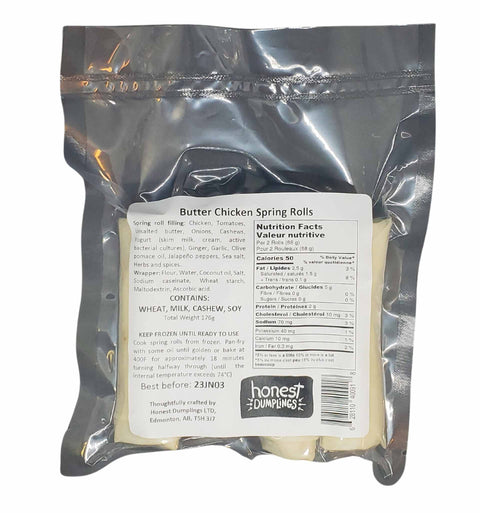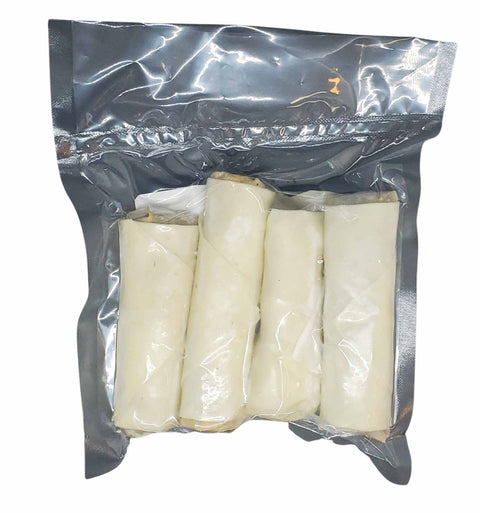 Honest Dumplings
Honest Dumplings - Butter Chicken Spring Rolls
Introducing Butter Chicken Spring Rolls brought to you by the unconventional food artists at Honest Dumplings! We have been dreaming about disrupting the spring roll category and we finally did it! These spring rolls are carefully hand crafted and packed with our famous Butter Chicken filling. Crispy on the outside and aromatic, spicy, melt-in-your-mouth on the inside. We are all in love!
Spring roll filling: Chicken, Tomatoes, Unsalted butter, Onions, Cashews, Yogurt (skim milk, cream, active bacterial cultures), Ginger, Garlic, Olive pomace oil, Jalapeño peppers, Sea salt, Herbs and spices.
Wrapper: Flour, Water, Coconut oil, Salt, Sodium caseinate, Wheat starch, Maltodextrin, Ascorbic acid.
CONTAINS: WHEAT, MILK, CASHEW, SOY
Total Weight 176g
 KEEP FROZEN UNTIL READY TO USE
Cook spring rolls from frozen. Pan-fry with some oil until golden or bake at 400F for approximately 18 minutes turning halfway through (until  the internal temperature exceeds 74°C)